Webcams are fun!
I forgot to mention in previous posts that I now have a webcam hurray..so that all the world can see the wonderful me:
lit by the funky leds on the front of webcam :D
Um...so yes..here are a few random pictures of my room:
Here is the evil flashing red light which spins during the fire alarm drills/tests!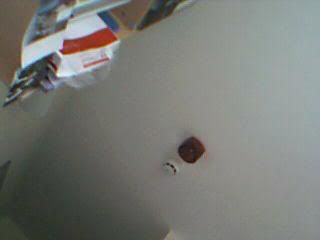 Anyway..today I went shopping and bought food and stuff the food being exciting things like Winnie the Pooh 'Rumbly Tumblies' - mini choc chip cookies!
and the stuff being a flower that makes me smile...only 67p!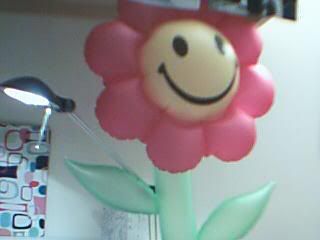 For those who were worried...I don't really intend to kill my lab partner...although she has now started visiting me in my room!!!! to ask evil lab partner type questions!!! AND she sat next to me in lectures! BUT as my mummy pointed out...I only have 4 pracs with her TOTAL this year! Because after Christmas I am not doing BioChem...aww...she will be all alone :(
Jess x
ps. Don't forget that the clocks go back on Sunday! Especially Uni People!